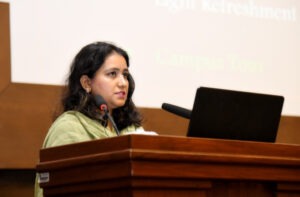 After completing her undergraduate work as an electrical engineer, Faria Tasneem Sheikh started her career as a lab engineer. Her sights were set on career growth, so she was also enrolled in a master's program. Maintaining her job in the early years of her career and securing an advanced degree on top of that turned out to be the hardest feat to achieve.
"It became a challenge as I got married and had to maintain a work-life balance with two toddlers in my lap," she says. People around her—including other women—suggested she just do the "bare minimum to keep the job" or give up the career altogether. It's a choice many women in Pakistan feel pressured to make: to choose family over career.
She chose both and recently found support for her journey through the USAID-funded Higher Education System Strengthening Activity (HESSA).
"I was fortunate to become a part of the Women's Leadership Program under HESSA on the recommendation of our Dean at the National University of Technology (NUTECH)," remarked Faria.
As a mid-career professional, this training was enlightening for her. "For the first time, I was able to meet, know, and get inspired by truly accomplished and inspiring women. It was heartening to see that women can achieve excellence in their careers as well as fulfill other obligations as a woman. The program enabled me to set new goals for myself for the next 10 years," she remarked.
The extended training program on leadership offered by HESSA, began in July 2022. As part of academia for over a decade now, Faria has always been open to learning and re-learning and, as a result, she has evolved over the years, always with the goal to achieve excellence as an academic.
"I have attended trainings related to pedagogy, but the HESSA Women's Leadership Program was my first opportunity to center on the capacity building aspect of this profession," said Faria.
Over the past couple of years after joining NUTECH, Faria has even branched out into higher education administration. "I wasn't thinking that administration would become a future aspiration of mine," she said. That was until she was nominated to become a part of HESSA's Women Leadership Training program and began to see new possibilities for her career growth.
In general, the number of women working in the education sector and the number of women in leadership positions is gradually rising in Pakistan. Several women-only universities have opened–a few are led by women Vice Chancellors.
HESSA's Women's Leadership Program is a customized extended training platform for Pakistan's higher education sector that aims to address this gap and equip women in higher education with the necessary leadership skills to help them navigate their careers.
The seven-month program consists of four distinct, but interrelated, phases to build a pipeline of women leaders at all levels, including pro-rectors, deans, department chairs, heads of student services and faculty members. Participants attend an opening workshop in Pakistan, an exchange visit to the U.S., an online course with weekly assignments and monthly meetings with mentors, and an in-country closing workshop and showcasing event.
Faria was part of the first batch of participants in the program, starting in July 2022. The experience has helped her focus on her career, accelerate her professional growth, and turned her eye to leadership positions as well. It also made her realize her own potential as a leader and understand the importance of community building and a collaborative mindset. As a result, she is making a conscious effort to guide and mentor younger women around her who are struggling to carve out their own paths.
"The leadership training enabled me to have a better understanding of how to address issues like work ethics, conflict resolution, time and stress management along with the importance of networking, mentoring, and building a support system to overcome the under-representation of women at higher education institutions," said Faria. "Furthermore, it facilitated me in developing my personal leadership philosophy and approach to strategic planning."
For her campus-based project, she launched an academic bootcamp to help enrolled students gain STEM skills pertinent to engineering degree programs. She designed the mechanics and curriculum of the program, and managed to run it for intake in 2022 as a pilot program coordinator. It not only helped the students to get acquainted with university culture before formally starting the degree but, on a personal level, it gave Faria a platform to display her mettle.
"When I started this training with an accomplished group of women, I never imagined that this would become a major turning point. This opportunity helped me showcase my talent and put me in the spotlight," she recalled. From having a vision to formulating implementation strategies, putting up a team, convincing people, and addressing risks and mitigation, Faria went through a transformation in her approach towards achieving goals. Such experiences allowed her to realign and set new goals as a professional.
The bootcamp initiative at NUTECH, led by Faria has now become a regular feature of the academic calendar, giving her ample opportunity to further improve the design and she is hopeful that it will pave the way for similar programs to generate revenue, expand student outreach and capacity building.
Faria's idea for the STEM bootcamp was in line with the university's goals and requirements for the 21st century's educational models, so she views this venture as having a lot of potential for improvement and growth in the future.
"Based on my personal experience, I would like to see more women who are at entry or mid-level career be a part of the HESSA's training program and make the most of the opportunity. It will provide them much-needed inspiration and mentoring from other women leaders at the senior level," she said. She believes that the support will bolster their aspirations and help them take on difficult life decisions at the early stages of their career with confidence.
"HESSA's Women Leadership Program could make a real difference, especially in universities where women are underrepresented in leadership roles by encouraging women and making them realize their potential," said Faria.
"I would like to thank the HESSA team and the University of Alabama who hosted us in the U.S. and mentored us over the past several months. This program has helped me in understanding my own leadership style and encouraged me to take up the challenge of becoming a strong leader," she concluded.
To date, HESSA has trained over 400 individuals affiliated with higher education institutions in Pakistan.