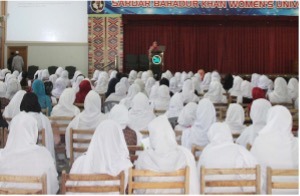 Dr. Farrukh Bashir receives her participation certificate at the HESSA student support services annual summit organized in Pakistan, July 2022

Dr. Farrukh Bashir is an Assistant Professor and focal person of 'Kamyab Jawan Markaz (KJM)' or 'Students' Facilitation Center' at Sardar Bahadur Khan Women's University (SBKWU), Quetta, Pakistan. She has been associated with the USAID's Higher Education System Strengthening Activity (HESSA) implemented by the University of Utah for almost a year as part of the student services support component and focusing on the student entrepreneurship thematic area.
As the lead for SBKWU KJM, Dr. Farrukh was able to provide a standardized one-stop office for students' information, counseling, and resources. The journey started with the establishment of the Youth Affairs Wing with an aim to empower youth with skills, resources, and self-reliance opportunities by initiating a grand youth development program catering to multiple domains. The KJM is a single office having distinct wings to deal with education, employment, and engagement services for youth.
"I have always been ambitious and usually try to bring some innovations to my professional career. I wanted to do something charismatic for a better future for my students and organization," said Dr. Farrukh.
However, she feels that the most important challenge in the professional environment is the spirit of 'collaboration'. She explained that it is difficult to find cooperative people of other well-established universities who want to work together for the enhancement of our organizations. This is where USAID's Higher Education System Strengthening Activity played its role in developing a community of practice in each of the thematic areas of student support services including financial aid, student leadership and programming, student microenterprise development, career readiness, alumni development and engagement, and mental health. The community includes nearly a hundred officials and faculty associated with HESSA's 16 partner universities across Pakistan.
As part of the HESSA community, Dr. Farrukh feels more motivated and enthusiastic. "Now I am trying to find different opportunities for my students which can change their career so that they could bring a big change in the society by establishing their own businesses and providing job opportunities to the community," she states.
Under its student services component, HESSA aims to open doors to meaningful, well-matched student careers. The project is enabling students to access and succeed in higher education–especially women and marginalized students–by building co-curricular programs that elevate student "power skills" and global competencies, creating strong student support networks that set them up for post-graduation success.
Dr. Farrukh has developed meaningful contacts in other HESSA partner universities. She recently established an Entrepreneurship Club where more than 200 students are actively engaged. In collaboration with HESSA partner universities, she conducted several awareness sessions on student entrepreneurship and student microenterprise development.
"I am so glad that the start-up ideas of seven groups from my university were selected in National Incubation Center Quetta (NIC) Cohort 8 (BUITEMS), NIC Cohort 3 (UOB), and UNIDO apple packaging solutions by NIC BUITEMS. It is a big success for me ,as I tried to provide a platform to my students to think in different ways for their future," shares Dr. Farrukh. HESSA enabled her to find a bright pathway for the Entrepreneurship Club and she continuously motivates students to walk on this path and discover a new world that is waiting for them.
As a next step, Dr. Farrukh is establishing Business Incubation Center (BIC) at SBKWU with the approval of senior management and taking on board various donor organizations. "We are trying to change the mindset of students by providing them awareness sessions on entrepreneurship. Through this, we hope that our goal of sustainability would be accomplished," she says. However, Dr. Farrukh feels the need of financial support in establishing BIC and some seed money for the small business start-ups.
Dr. Farrukh believes that HESSA is very informative and provides a wonderful platform for collaboration throughout the 16 participating Pakistani universities. The program is led by the international consortium of the University of Utah, the University of Alabama, and the International Institute of Education. She also suggests making these thematic areas compulsory (non-credit) policy of undergraduate studies, so the initiative becomes sustainable and enables a brighter future for the youth.