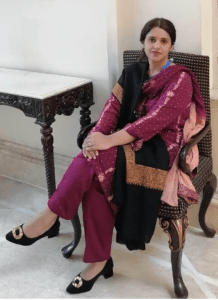 Dr. Aqsa Shabbir, Associate Professor of Electrical Engineering and Director of Research, Innovation and Commercialization, has been at Lahore College for Women University (LCWU) for the last 10 years. In February 2022, she attended the inaugural stakeholder consultative meeting held in Islamabad for discussing and assessing the status of Higher Education Institutions (HEIs) in Pakistan. Nominated by her institution, it was here that Dr. Shabbir first became acquainted with the USAID-funded Higher Education System Strengthening Activity (HESSA) and its objective of uplifting the HEIs in Pakistan. "The tagline for this event 'Building Strategic Alliances' could not have been more apt, as this inaugural meeting itself provided ample opportunity for networking and building linkages for a lifetime," she recalls.
Dr. Shabbir was one of the main leads from LCWU who welcomed the HESSA delegation for an assessment visit, which led to the selection of LCWU as a partner HEI under HESSA—out of the 16 partner HEIs, five are women-only institutions. For almost a year, she participated in various capacity-building initiatives and events organized by HESSA and has remained associated with the project's two components, first as Director Office of Research, Innovation and Commercialization, and second as the Lead Student Entrepreneurship.
"One of the biggest challenges that I had been facing was the monotony at my workplace, which had developed because of meeting the same people, same constraints, and following the same practices each day. I yearned for fresh ideas and novel brainstorming," mentions Dr. Shabbir. She says she struggled to increase productivity with limited resources: financial, human, and intellectual. However, her aspirations concurrently as a manager and a leader included expanding the entrepreneurial, research, and innovation landscape at LCWU.
Through HESSA's support, she was able to develop a scientific/professional network with HEIs within Pakistan and abroad, which has already and is likely to further improve several aspects of her work life. "My time at HESSA has exposed me to best practices across other HEIs from which I could learn and replicate. Further, it also made evident to me that there are common struggles and problems which several of my counterparts across other universities face and we can together take little steps to improve things. I was also able to meet and connect with several aspiring women leaders, which was both inspirational and empowering at the same time," says Dr. Shabbir
While still being an academic with core responsibilities of teaching and research, she was entrusted with leading the university's research, innovation, and commercialization office. In this leadership role, while streamlining the research work, she also spearheaded the formation of an entrepreneurial consortium, which is led by LCWU and includes Fatima Jinnah Medical University and the Virtual University of Pakistan. Through the platform of this newly established consortium, Dr. Shabbir pitched for and won a grant of PKR 40 million through the Higher Education Commission (HEC) for the establishment of a Business Incubation Center (BIC) at LCWU and the consortium partners.
Dr. Shabbir reflected on several things she has learned over the course of just one year—including familiarization with important themes and domains that HEIs need to prioritize climate change, adaptation and resilience, career readiness, employability, entrepreneurship, equity, diversity, and inclusion. She noted an increased awareness to align all systems and practices to maximize the employability and quality of graduates. Dr. Shabbir aims to further strengthen the BIC, launch a pre-incubator and an accelerator, and develop the first women-university-led science and technology park. These, and other aspirations, are motivated by her underlying desire to make STEM studies and the higher education landscape more equitable, diverse, and inclusive.
While looking forward to the upcoming HESSA international study tour, Dr. Shabbir remarked, "One of my favorite things about HESSA has been its particular focus on sustainability. It has been an essential feature across all training sessions, talks and events." She believes that this will naturally enable HEIs to adopt systems and practices that are sustainable, and the beneficiaries will serve as master trainers to disseminate the learnings to the teams and faculty at their respective HEIs.
"I want to appreciate and congratulate USAID, the University of Utah, and the HESSA team for such meticulous planning and execution of this mega project, which I truly believe will contribute towards the uplifting of HEIs at many levels," concludes Dr. Shabbir.