On October 24, 2023, USAID's Higher Education System Strengthening Activity (HESSA) organized a webinar on Mental Health & Wellbeing in Higher Ed to commemorate World Mental Health Day, observed every October. Attended by approximately 90 participants, including faculty, officials, and students from across Pakistan, this year's webinar theme focused on, 'University Student Life: A Time of Mental Health Risk and Resilience.'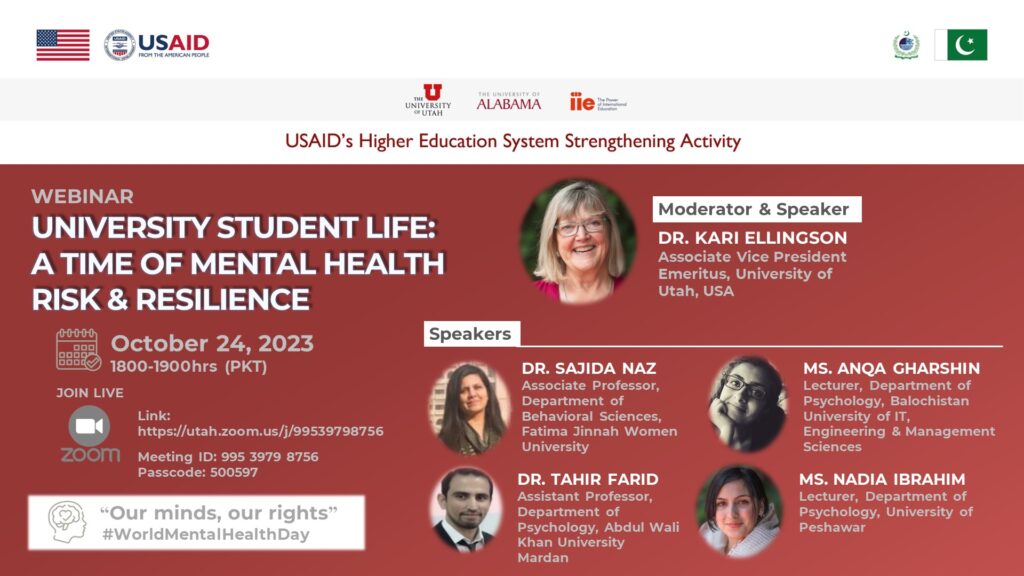 Dr. Kari Ellingson, Associate Vice President Emeritus of the University of Utah who is also leading the mental health focal area under HESSA's student services component moderated the session. Four additional panelists and speakers were nominated from HESSA partner universities in Balochistan, Punjab and Khyber Pakhtunkhwa. These included Dr. Sajida Naz, Associate Professor of Behavioral Sciences from Fatima Jinnah Women University, Ms. Anqa Gharshin, Lecturer of Psychology from Balochistan University of IT, Engineering & Management Sciences, Dr. Tahir Farid, Assistant Professor of Psychology from Abdul Wali Khan University Mardan, and Ms. Nadia Ibrahim, Lecturer of Psychology from University of Peshawar.
The 1-hour session began with an overview of university counseling centers in U.S. by Ellingson, followed by a brief talk by Naz on primary mental issues facing university students in Pakistan. Gharshin described how a faculty or staff member can recognize a student who might be experiencing mental health issues, while Farid enlightened the audience on some of the factors that facilitate or prevent students from seeking help. Then, Ibrahim talked about the steps being taken by Pakistani universities to help students with mental health concerns or increase their resilience. Later, the four panelists discussed necessary steps for increasing mental health awareness on campuses. Finally, the forum was opened for Q&A with participants.