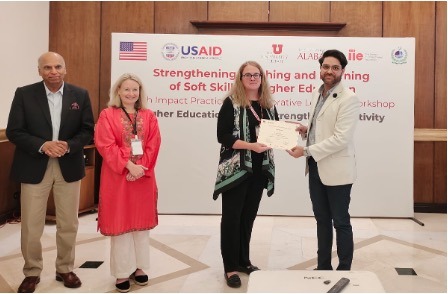 Almost a year ago, when Dr. Shaheryar Naveed was nominated for a faculty training program by his university Vice Chancellor, he had not heard of the USAID-funded Higher Education System Strengthening Activity (HESSA). Now he's a champion of the program and teaching the methods he learned during his HESSA training to his colleagues and students at Fatima Jinnah Women's University (FJWU).
"HESSA has brought to my attention the concept of the 'engaged teaching model' and collaborative learning techniques. I believe this will become a game changer for both teacher and student learning. It has allowed me to look at my classroom in a creative and innovative way, while focusing on student learning as an outcome," he said.
Serving as an Assistant Professor and Additional Director for the Center for Learning Excellence, Shaheryar has been associated with FJWU for 15 years.
Though his interpersonal skills have been rated highly by colleagues, Shaheryar believes that there is always room for improvement and felt passionate about improving his life skills. "I believe lack of mentorship has been one of the main factors hindering my professional growth," he said.
Shaheryar participated in the teaching and learning program offered by HESSA to its partner universities' faculty. This extended training program addresses the overarching goal of HESSA – to increase the employability of graduates from Pakistani Higher Education Institutions.
The three-phase program progressively builds participant knowledge, skills, and competencies to be engaged teachers, deliver online instruction, and improve student soft skills.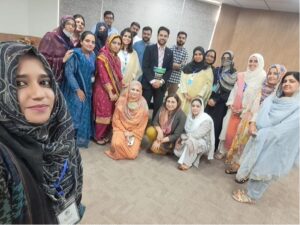 "HESSA training is extensive and exhaustive in terms of content and coverage. I have been part of many trainings, however I have never been part of a training at such a large scale," said Shaheryar.
Facilitated by experienced U.S. faculty, the first phase of this program includes an in-person workshop that provides specific training in High Impact Practices, or HIPs, promotes the use of collaborative learning to enhance the soft skills of students.
The second phase involves comprehensive coverage of the fundamentals of teaching and learning through an online bootcamp. Participants review these fundamentals and implement them in the course they teach.
Participants must complete the online bootcamp, as well as the High Impact Practices and Collaborative Learning Workshops. Then, they attend the final leg of the training– an international study tour to the University of Alabama during an ongoing semester to maximize exposure to faculty, students, and best practices.
During the training, Teaching Fellows do regular writing assignments, attend guest lectures, and practice microteaching. They engage in hands-on activities to develop concrete ways of using the information in their own courses. They visit classrooms and instructional offices at The University of Alabama, as well as nearby colleges and universities. An important element is a "train the trainers workshop" so that they can lead workshops to improve learning of soft skills and develop courses at their own campuses.
Upon completion of the training, Shaheryar feels that the project has provided him a networking opportunity both at national and international level. The connectivity allows him to share ideas with colleagues from different regions and build collective project ideas and research.
Shaheryar believes that technical skills can be learned easily whereas the impact of a project or service has a lot to do with interpersonal skills. Therefore, after this training, he puts additional emphasis on the soft skills improvement of his subordinates and colleagues.
Sharing his thoughts about the impact of this intervention, Shaheryar shared that "the training has allowed me to align faculty development intervention based on the philosophy of the engaged teaching model and collaborative learning practices. I am already designing a training module inspired by HESSA teacher training component for the lecturers and assistant professors of FJWU. In addition to this, I am also one of the master trainers of Pakistan's Higher Education Commission and I have recently designed and delivered a training module to newly qualified Ph.D. scholars. The focus of my training module was the use of technology in the classroom and it was given to almost 30 scholars."
To date, HESSA has trained over 300 individuals affiliated with higher education institutions in Pakistan.