Supporting students as they pursue their academic dreams is arguably one of the most important aspects of the work we do at the University of Utah. The services we provide foster a greater sense of belonging and helps them craft their own communities of support, which, in turn, leads to timely degree completion, higher graduation rates, and prepares students to successfully enter the workforce.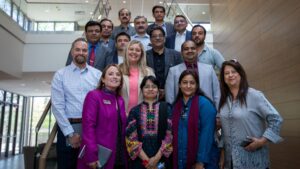 In early May, 13 higher education professionals from Pakistan visited Salt Lake City to learn more about how the U supports student life on campus. The week-long study tour was made possible through USAID's Higher Education Systems Strengthening Activity (HESSA). The University of Utah is the lead coordinating institution for the $19 million, five-year project. 
HESSA is a partnership between the Government of Pakistan and USAID focused on helping Pakistan's higher education institutions address the country's misalignment between the skills of its graduates and more modern workplace needs.
In 2021, the University of Utah was selected to lead HESSA's implementation, thanks in large part to the U's experience with educational capacity building in Pakistan. Partner institutions include the University of Alabama and the Institute of International Education. The trio of U.S. institutions is working closely with 16 universities in Pakistan to strengthen their leadership practices, approach to curriculum and research, and student life initiatives.
"Since starting this project, the U has had the honor of hosting 20 Pakistani Vice Chancellors between both our Salt Lake City Campus and our U Asia Campus in Incheon, South Korea to talk about university leadership practices. We were thrilled to offer an equally hands-on learning experience to these 13 student services representatives," said Randy McCrillis, dean of students and executive director at the University of Utah's Asia Campus, and lead of the HESSA Student Services Component.
"Over the course of the week, our University of Utah experts were focused on training their Pakistani counterparts to really hone in on strengthening their ability to support students above-and-beyond their academic engagement," said McCrillis. "By providing additional levels of support, their graduates will then be better prepared for the market-led, demand-driven jobs of the future."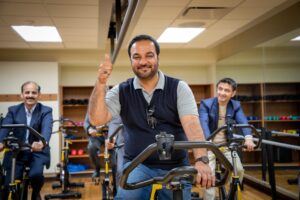 As participants were introduced to the U's successful models of student engagement they were encouraged to think about best practices in the following categories: alumni engagement, career readiness, mental health and psychosocial support, student microenterprise development, student leadership and co-curriculars and financial aid.
"Our goal is to provide our partners with proven tools so they can implement, enhance or create similar programs, services, and initiatives within the unique contexts of their home institutions," said McCrillis.
The group met with a wide variety of student support personnel while at the U, including leadership from the Office of the Dean of Students, wellness and mental health staff, campus recreation, scholarships and financial aid, and student government. They also toured the Student Life Center, Lassonde Studios living and learning community, Red Butte Garden, and the Alumni Relations office, among others.
Many participants noted the concerted effort at the U to create hands-on job opportunities in university offices for students through work-study programs, internships, and volunteer positions. These experiences extend a student's marketable skills beyond their coursework, teach "soft skills," and bolster their resume before graduation.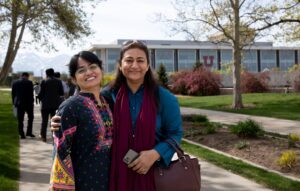 "I'm really impressed by the amount of student involvement in the offices here—both volunteers and paid staff. I hope I can implement that in my university," said Farheen Shaikh, Chief Hostel Provost and Associate Professor at People's University for Medical and Health Sciences for Women.
"The mental health support I especially liked," said Manzoor Hussain, Director of Academics and Student Affairs at Baluchistan University of Information Technology, Engineering and Management Sciences (BUITEMS). "It has been wonderful being here. I learned a lot of things regarding student well-being, student government and leadership, and inclusion in a short amount of time. I will soon be implementing student governance and leadership programs back at home. I must say the entire University of Utah team was wonderful and this campus is a learning paradise."
ABOUT USAID'S HESSA
USAID's Higher Education System Strengthening Activity (USAID's HESSA) exists to address Pakistan's mismatch in supply and demand of workforce development. Launched in 2021, the five-year project will increase the employability of the Pakistani workforce through trainings to improve Higher Education graduate capacity, relevance, adequacy, and inclusivity.
This is not the first USAID-funded initiative located in Pakistan in which the University of Utah was a pivotal partner. In 2014, the U.S.-Pakistan Center for Advanced Studies in Water, was created to help train the next generation of the country's water engineers. The reputation garnered during that project has led to additional educational initiatives and capacity-building partnerships throughout the country in the years since.