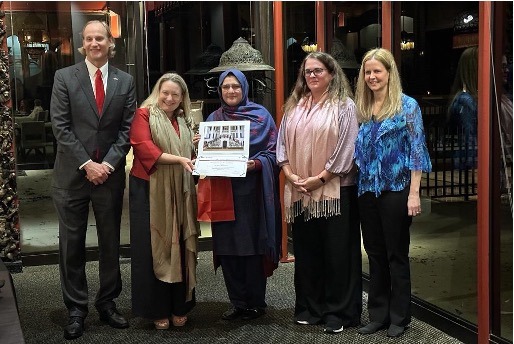 Dr. Asma Shahid Kazi has been an Associate Professor of Education at Lahore College for Women University (LCWU) in Punjab, Pakistan for the past 12 years. In July 2022, she was nominated to participate in the Teaching and Learning Training Program offered by USAID's Higher Education System Strengthening Activity (HESSA) to its 16 partner higher education institutions (HEIs). Having participated in another USAID-funded project focusing on teacher education, Kasi was eager to join the cohort.
HESSA's faculty training program is spread over seven months and includes training workshops, online bootcamps, and a two-week study visit to the U.S. The program focuses on strengthening an educator's ability to teach soft skills to higher education students.
Kazi was part of the first batch of faculty participating in the teaching and learning program building on high-impact practices (HIPs) in teaching. Her program started in the summer of 2022 and concluded the following February.
"Before the training, I had considerable exposure as a trainer, and teacher educator. I had been working on my students' soft skills as well for several years. In that context, I had started TEDxLCWU and got a full scholarship to upgrade my license by attending a workshop and the event TED Women 2019 in the U.S. However, after being engaged with the HESSA mentors, and particularly the trip to the University of Alabama, I realized the broader perspectives of learning," noted Kazi as she reflected on her own capabilities.
"I realized that my interpersonal skills need to be further refined. As a manager, I have always focused on cultivating a more inclusive and effective teaching environment, enhancing my ability to engage and motivate students, and fostering a culture of continuous learning within my circle of influence," she continued.
However, she realizes that the right attitude and disposition are far more effective—teaching skill is just as important as content for endured learning. HESSA's training program helped build her skills profile and gave her more confidence in her capabilities.
Balancing the diverse needs of students from various cultural backgrounds while maintaining an equitable learning environment was a recurring challenge for her. Additionally, designing courses that effectively engaged students and promoted holistic learning outcomes required a more structured approach. Navigating these challenges with the help of international experts and mentors, particularly from the University of Alabama, led her to seek new avenues for growth and development.
"This extended training program provided me with a comprehensive toolkit to effectively address the challenges I previously encountered," said Kazi.
By incorporating diverse teaching strategies, understanding the nuances of student learning, and emphasizing soft skills, Kazi has significantly improved her engagement with students and her overall effectiveness as an educator.
The program's emphasis on student-learning outcomes and evaluation methodologies empowered her to create a more dynamic and result-oriented learning environment.
Moreover, the exposure to a diverse set of teaching resources and best international practices enriched her teaching methodology and introduced a fresh perspective on designing courses.
"I widely use the high-impact practices in my teaching and training," said Kazi. "In essence, this training has enabled me to emerge as a more confident and competent educational leader, better equipped to facilitate meaningful learning experiences and foster a positive and inclusive learning environment."
Since her return from the study visit to Alabama this year, Kazi has been involved in more than 50 training sessions, some of which were in LCWU, some with other universities such as the University of Education and Virtual University, and as a master trainer with Pakistan's Higher Education Commission (HEC). "I visited cities across Punjab on behalf of HEC and delivered sessions on curriculum development and instructional design, syllabus design, andragogy and pedagogy, assessment, and most of all e-learning and digitization in higher education. This opportunity provided me with the collaborative lens in high-impact practices," said Kazi.
Kazi also got actively involved in introducing training for newly inducted faculty at LCWU, which was immensely appreciated by her leadership. She is continuously incorporating learning principles that align with planning meaningful learning experiences for her students.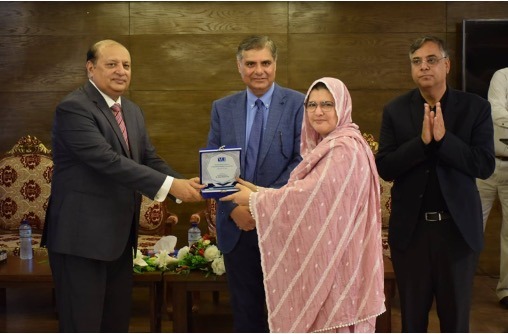 "I have embraced the significance of diversity in today's student population and have endeavoured to cater to the needs of all students, valuing both student-learning outcomes and their limitations. HESSA's training also empowered me to identify and implement valuable teaching resources and information for continuous improvement," said Kazi.
The knowledge and skills she acquired through HESSA's Teaching and Learning Training Program are integral to her ongoing professional development as an educator. The strategies, such as incorporating diverse teaching methods, considering various learning styles, and prioritizing soft skills, are applicable across different courses and contexts, ensuring a lasting impact on both teaching practices and the students' learning experiences.
By horizontally integrating these practices in LCWU, she hopes to benefit her institution, fostering a more inclusive and effective teaching environment. She believes that the ability to plan engaging lessons, consider diverse student needs, use the most current technology, and leverage innovative teaching strategies contribute positively to improved student engagement, learning outcomes, and overall satisfaction within the institution.
"This experience taught me several key lessons. I have learned the importance of adaptability in teaching methodologies to cater to diverse student needs. I have learned to balance between being an authentic and credible teacher. The significance of ongoing evaluation and improvement in teaching practices has been reinforced. Additionally, I've recognized the essential role of soft skills in the learning process, the integration of the affective domain in the lessons, and I've gained a deeper appreciation for the synergy between learning principles and practical implementation," reflected Kazi.
In conclusion, she has a message for her colleagues and officials of HESSA partner universities. "I am grateful to USAID and to HESSA, the University of Utah, and my mentors from the University of Alabama for this transformative experience. I would like to share that I have tried to implement a structured approach to incorporating soft skills into my courses, fostering a holistic learning environment. I have also proposed a peer-sharing initiative in my department, where teachers can exchange insights and experiences to collectively enhance teaching practices. I have also planned more student conferences to showcase their portfolios, research, and achievements. I hope these decisions and actions contribute to achieving successful results and ensuring the continuous growth of our teaching community," said Kazi.