Dr. Mehfooz Ullah is an Assistant Professor of Business Management Programs at Karakoram International University (KIU) in Gilgit, Pakistan. He is also responsible for the Office of Research, Innovation and Commercialization (ORIC) at the institution. KIU has begun offering business incubation and entrepreneurship programs, and for this reason, Ullah was nominated by his university leadership to participate in the USAID's Higher Education System Strengthening Activity (HESSA) student microenterprise development program (MED).
HESSA's MED initiative trains officials from partner higher education institutions (HEIs) on how to create an enabling environment for student microenterprise development. Participants learn from successful global models and work to adapt those models to meet their needs. They are preparing to teach core entrepreneurship skills to their students and communities, and to establish supportive environments for MED on their respective campuses.
"Since my affiliation with HESSA, we have seen some positive changes happening in the systems of the university. In particular, we see that a tremendous growth has happened over the period of one year in student microenterprise development," noted Ullah. "Although incubation was not a new thing for us, and entrepreneurship was not a very new concept in the university, the challenge was how to do those activities effectively," he says.
The traditional method of business incubation within the ORIC framework is to link it with research commercialization, so any products that are the outcome of academic research are commercialized, incubated, or both. But through HESSA trainings and an exposure visit, the participants have been introduced to newer, more innovative concepts of MED and have seen them successfully applied programs in different parts of the world.
In early 2023, HESSA organized a two-week study tour to Indonesia for selected participants under the MED initiative. Ullah was part of this delegation representing KIU. The tour included a train-the-trainers workshop on developing and implementing MED programs. It also included visits to Mien R. Uno Foundation, the Indonesian Ministry of Education, Universitas Pendidikan Indonesia, Universitas Trunojoyo Madura, and Ciputra University.
"So, initially we were not sure what to do under MED. After this training, we got some clarity, and I was able to develop and humbly start a program titled Microenterprise Development at KIU," shared Ullah. "Although the facilitation and the physical infrastructure wasn't an issue at our institution, the thematic concepts and how to proceed with it, was a challenge. That was covered by our exposure visit to Indonesia, where I experienced how the universities over there have been able to successfully do it," he says.
Upon his return, Mehfooz immediately contacted the leadership and presented this concept. After necessary approvals, initially the leadership took a structural decision to separate business incubation from ORIC. Then under ORIC, the MED program was launched for the first time for KIU students. So, technically ORIC is now a different institution at KIU that is running multiple programs and one of its most popular programs is MED.
In 2023, the program launched its first application cycle. KIU was expecting 15-20 students to apply but, surprisingly, the number of applications was more than 350. KIU was also able to secure some collaborations with international and local organizations who are eager to implement this model of MED and are hopeful that it will bring wonderful results.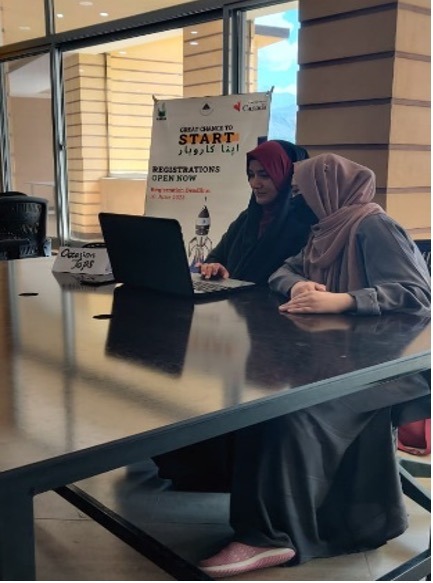 There are microenterprises working outside the university in the market, and it is getting quite common in the Gilgit-Baltistan region of Pakistan. However, it is a challenge to convince the students who have a degree that they should start a very small business, which does not need to be very innovative. Other entrepreneurship programs are more focused on tech, innovation, and commercialization, but MED mainly focuses on making students understand the worth of being an entrepreneur.
"Students are able to start at a very low level and do something that they believe could add some value to the market or to society—starting with a small product, with a small service—not thinking in an elaborative framework," remarked Ullah.
To implement this, firstly, Ullah created an outreach team and went to all the departments on campus to have sessions with the students. They created awareness about what it means to start a microenterprise. After a few weeks, students began contacting them with different queries and business ideas. That was the point where they started diverting their thinking towards starting something that was doable, did not need much technology, did not require many resources, at a very humble level, at a very small scale.
Secondly, Ullah and his team started to build relationships and collaborations with institutions that are operating in the same ecosystem and showed willingness to help financially and technically to implement some ideas with small grants. Bootcamps were also organized in coordination with these institutions.
Next, with the approval of leadership, a co-working space was designated and the new program was designed for students of all disciplines to understand the core concepts of a business and then apply it to their ideas for startups.
"That's something unique for us and we are excited to see the results. It is a six-month program and we are hopeful that the success rate would be better as compared to the other similar initiatives," concluded Mehfooz.
HESSA's MED initiative directly resulted in following outcomes at KIU:
Microenterprise development program: KIU developed and launched a dedicated six-month program on student microenterprise development. Orientation sessions were conducted in all departments and over 300 applications were received from students in the first cycle of the MED program. Out of these, eight startups were selected and provided a grant of PKR 0.3 million each.
Entrepreneurship course: KIU developed and introduced a specialized course on entrepreneurship that is being offered in six departments initially. The course focuses on applied entrepreneurship and includes topics such as design thinking, business model canvas, digital marketing, and financial modeling. Entrepreneurship bootcamps were also organized for students from all 20 departments.
Restructuring the office of research, innovation, and commercialization: The ORIC and business incubation (BIC) were functioning as a single unit focusing on linking business incubation to research commercialization. As a result of HESSA support, KIU recognized both units as independent institutes and restructured BIC to host startups, microenterprises, and student entrepreneurs. KIU has seen immediate success in connecting students to public and private sources of funding operating in the same ecosystem such as Aga Khan Rural Support Programme (AKRSP) and Accelerate Prosperity.
KIU is working in other areas of student support services with HESSA such as student leadership, financial aid, mental wellbeing, and alumni engagement. For example, under student leadership, KIU has activated multiple societies and forums for its students in terms of debating, literature, volunteering, and entrepreneurship that are run by the provost office, where students can contribute positively to the development of the university and, ultimately, to the development of the society.